Celebrating the church's birthday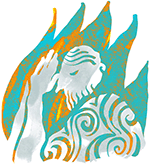 On Pentecost, we remember when the Holy Spirit descended on Jesus' disciples. As they gathered in Jerusalem 10 days after Jesus' ascension, they saw tongues of fire, heard rushing wind and began speaking in many languages. Because the disciples could then share the good news with all the pilgrims assembled for the Pentecost festival, the occasion marks the birthday of the Christian church. That day alone, about 3,000 people devoted their lives to Christ.
Like the Holy Spirit, Pentecost is important and relevant today. As theologian Henri Nouwen writes, "Without Pentecost the Christ-event — the life, death and resurrection of Jesus — remains imprisoned in history as something to remember, think about and reflect on. The Spirit of Jesus comes to dwell within us."
Please take a look at our News page for articles, and quizzes, and also to get an idea of the worship songs we use, please visit our Sermons page where you can listen to messages from Pastor John and Pastor Kirk.
Sunday Service 29/05/2022 https://churchserviceplanner.co.uk/p/jbgb2ffrq4
Sunday Service 05/06/2022 https://churchserviceplanner.co.uk/p/e9f3slc35u
Sunday Service 12/06/2022 https://churchserviceplanner.co.uk/p/honpgtgwo6
Sunday Service 19/06/2022 https://churchserviceplanner.co.uk/p/bqaj8kmtbi
On Sunday 29th May 2022 we had a special service to celebrate the Queen's Jubilee, this link will open a pdf of the order of service, which includes prayers for the Queen, Quotes from the Queen concerning her faith and a short outline of John's talk on the objects given to the Queen at her coronation and how they relate to the Christian faith Queen's Jubilee celebration
On Sunday 5th June 2022 we had our Pentecost Service, this link will open a pdf order of service, which includes Bible readings, questions on those readings, and a brief outline of Pastor's John and Kirk messages, Pentecost Sunday 2022
On Sunday 12th June 2022 Pastor Kirk gave this message Jesus invites Himself to a thieves house
On Sunday 19th June 2022 Damian gave this message Abraham trusted God in the: Uncertainty,Unlikely and the Unthinkable
Anyone who requires prayer, a chat, and practical help in the meantime please contact us.
If you are just looking or a committed follower of Jesus we welcome you to attend Willenhall Free Church, Coventry. We look forward to sharing the truth, our belief and faith in our lord Jesus Christ, to encourage and strengthen His church. Please feel free to come along all are welcome. We look forward to seeing you. "We proclaim to you what we have seen and heard, so that you also may have fellowship with us. And our fellowship is with the father and his son, Jesus Christ". (1 John 1 v 3).
Further information please contact us