August 2023
Oxygen for ministry
Flight attendants instruct airplane passengers that if oxygen masks are needed, we should secure our own before assisting someone else. Why? If we aren't getting enough oxygen ourselves, we can't help another person for long. The Holy Spirit empowers Christians for ministry — the work of loving and caring for our neighbors and God'screation. But if we aren't Spirit-fueled on an ongoing basis, we will soon lack the capacity to serve. This may manifest as burnout, cynicism, exhaustion or even lack of faith. So how to ensure we're breathing in the Spirit's energy and guidance instead of poor-quality "air"?By taking part in corporate worship regularly, immersing ourselves in the Scriptures (devotional reading and Bible study), praying "continually" (1 Thessalonians 5:17, NIV), and spending time with Christian friends and mentors. Opening ourselves to the Spirit in these ways allows the Breath of God to flow into us, which in turn empowers us to reach out to others in love.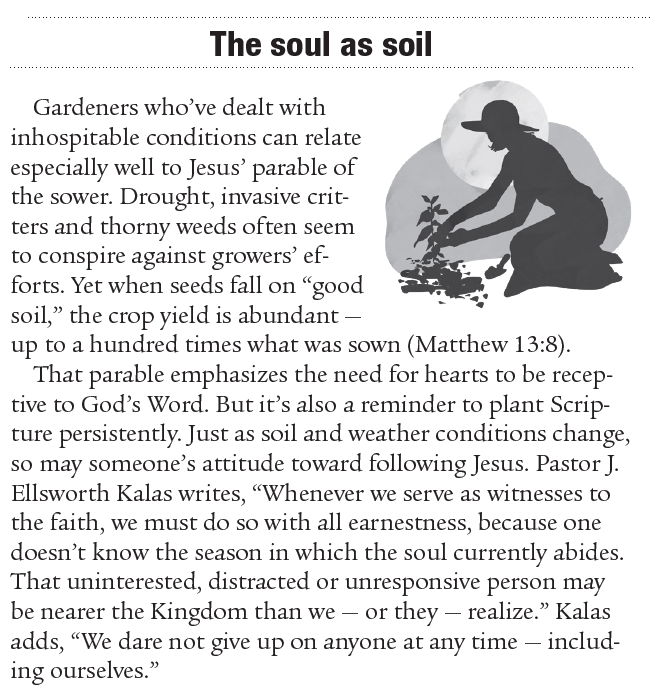 A prayer for strength
God of inexhaustible strength and limitless energy, our refuge, strength and very present help in trouble: When even youth faint in weariness and the young fall exhausted, help us wait patiently for you to come to renew our strength, so that we will mount up with wings to soar like eagles, riding on the undercurrents of the wind of your Spirit.You who need no slumber nor sleep, by your Holy Spirit's power keep us from all evil, safe in Jesus' nail-scarred hands.Help us never weary as we run after you and never faint as we walk in Christ's footsteps, now and forevermore. Amen.